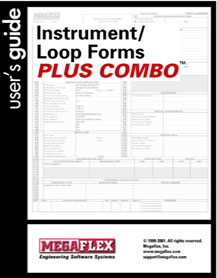 >>REQUEST QUOTATION OR WEBINAR

Instrument /Loop Forms Plus  COMBO module is a database management module that interacts with the instrument index created in the Instrument Forms Plus Pro software for instrument loop wiring information for configured instruments. The software can be used to load existing loop data to develop an instrument database for existing instrument loop diagrams. It can also be used by design engineers on new projects. The instrument specification and loop wiring data sheets provide a building block for the design engineer and plant instrument maintenance engineer in the management of the instrument information and associated wiring.
Combo Module-Enterprise Version is integrated with Instrument Forms Plus Pro-Enterprise Version to include instrument specifications and preventive maintenance and enable the total data management and documentation of the instruments within a plant.The software can be configured as a single-user workstation or multi-user network configuration.
Minimum System Requirements: Computers running XP SP2 or higher on Windows 7 operation systems with either X86 or 64 bit processors..