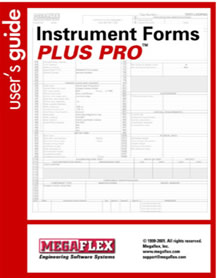 >>BUY NOW
>>REQUEST 30-DAY TRIAL
>>REQUEST QUOTATION
Instrument Forms Plus PRO-Enterprise Version is a database management system(DBMS) program using a Microsoft SQL Express Database that provides the instrument engineer or plant maintenance technician with the tools to create and manage instrumentation data.  This software includes instrument specification forms, a detailed instrument index, preventive maintenance management module, file utilities for data backup and restore, PDF format printing, import/export utilities, universal form development and many more features. The specification forms integrate the ISA provided data pick table values into each specification display to provide an easy to use and quick way of defining the attributes for filling out an instrument specification. The pick tables utilize over 55,000 pre-programmed pick items for use on the specification forms.
Instrument Forms Plus Pro – Enterprise Version. The data is programmed to be interactive between the index and specification forms, which means that data that is entered or changed on one display's data table is automatically inserted into the other. Instrument Forms Plus Pro-Enterprise is easy to learn and use with a point-and-click interface.
Instrument Forms Plus PRO- Enterprise Version extended support provides updates and telephone support from the Megaflex website as well as new data sheets released by ISA during the support period.
12 months extended support and updates $350
Minimum System Requirements: Processor 4G or RAM, 2G minimum of hard disk , VGA monitor or higher, Microsoft Windows 7 or 10, X86 or 64, Mouse or track ball, laser printer, any Windows compatible network.
Call or
email
for multi-user network pricing.